What's Included
Sales Records
Problem Checks
Vehicle specifications
Theft Records
Accident Records
Junk / Salvage / Insurance Records
Lien / Impound / Export Records
Full Vehicle History Report
Buy and download today and get so much more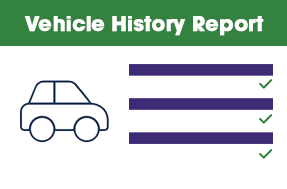 View sample report
Start now
Membership is just $10.95/month. Try now for just 50¢ for 24 hours.
Virtual Vehicle Garage
You can add up to 5 vehicles at a time, and change these whenever required. We provide data including current value, ownership costs, vehicle specifications etc.
Track Your Expenditure
Record your expenses (such as fuel, servicing, maintenance etc.) using our tools and keep track of your vehicle expenses over time with our useful dashboard.
Buying & Selling Tips
We offer extensive tips for people looking to sell their vehicle, or buy another one, including an easy-to-use Bill of Sale template tool.
Need to cancel?
If you'd like to cancel your membership to State Vehicle Check, simply log into your account and click the "Close account" button on the Account Settings page. Alternatively, contact our Customer Services team who will be happy to assist.
VIN Check Report
Run a VIN Check report on any vehicle you are planning to buy to check for accident history, stolen or outstanding loan. Our report checks all this, and you can get 1 report included for free in your account.
Useful Reminder Alerts
Avoid large fines by renewing all your permits and licenses on time. Use our simple alert system to set up reminders so you don't miss important renewal dates.